Post Covid Cybersecurity Guide

FREE DOWNLOAD
The Post-Covid
Cybersecurity Guide
The post-covid workplace has enough challenges, cyber-security shouldn't be one of them! The Bluheeler Team put together an easy-to-use resource guide full of best practices, strategies, and recent cyberattack intel.
This in-depth guide include these reports: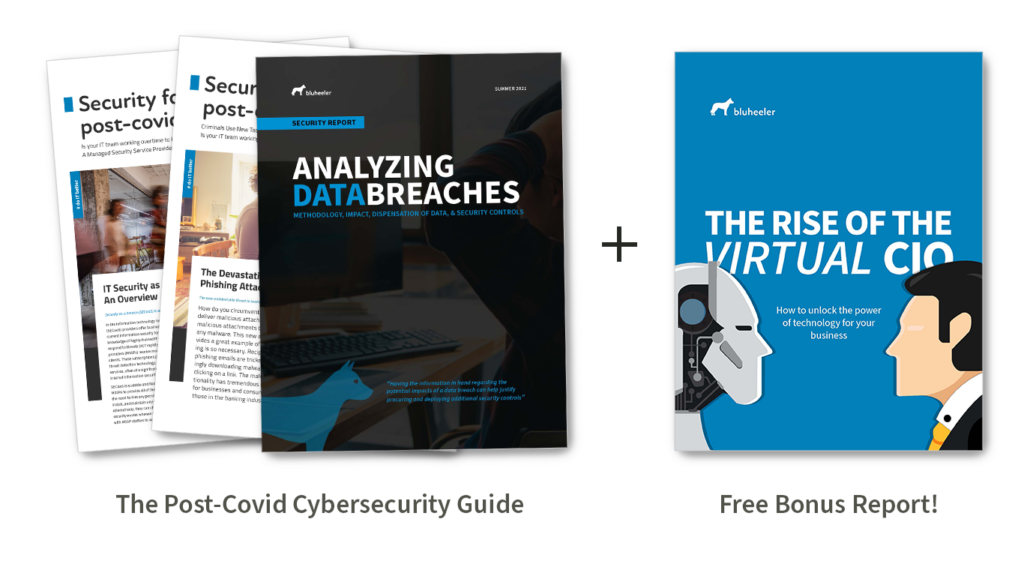 "... at a time when there is a shortage of highly-trained and experienced security specialists, MSSPs remove their clients' burdens relating to finding and hiring the right people. Clients needn't be concerned about identifying, evaluating, purchasing, tweaking, monitoring, and maintaining the proper security applications and hardware to meet their needs."
IT Security as a Service
"Having the information in hand regarding the potential impacts of a data breach can help justify procuring and deploying additional security controls"
Analyzing Data Breaches
"Recipients of these phishing emails are tricked into unknowingly downloading malware without even clicking on a link. The malware's functionality has tremendous consequences for businesses and consumers, especially those in the banking industry."
IT Security as a Service
We will always keep your personal information safe. We ask for your information in exchange for a valuable resource in order to (a) improve your browsing experience; (b) send information to you that we think may be of interest to you by email or other means; (c) send you marketing communications that we think may be of value to you.
Absolutely. Just sharing some free knowledge that we hope you'll find useful. Keep us in mind next time you have cybersecurity questions!